Dave Chase recently wrote for Forbes about how the irrational set of circumstances in which the healthcare industry finds itself have certain implications - the continued hyperinflation of premiums would accelerate the employer realization that they need to take matters into their own hands and disintermediate healthcare plans. A growing number of employers are doing exactly that.
Read the full article at: www.forbes.com
"The best book I've read to help understand the underlying dynamics of healthcare's under-performance is David Goldhill's "Catastrophic Care: Why Everything We Know About Health Care is Wrong." Goldhill goes into great depth on the destructive dynamics of having what he calls "surrogates" — i.e., insurance companies — between us and clinicians." - Dave Chase, Startup Capital, Speaker, Entrepreneur, Aspiring Documentarian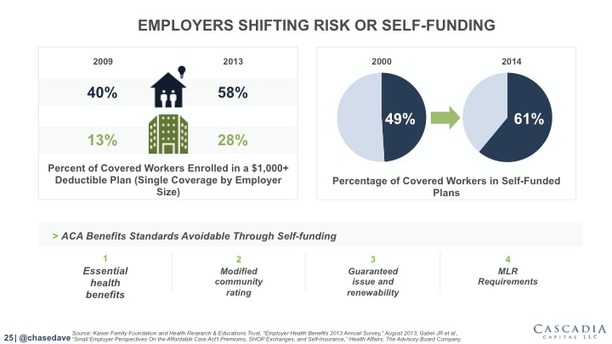 Employers with 100 or more employees are wise to consider self-insurance - if a company has claims over the amount that the insurance company planned to achieve their profit target, they'd simply get it back in the following year through increased premiums (the burden falling back on employers). And the healthcare plans from insurance companies do nothing to improve patient experience or outcomes, or to lower costs. Self-insurance, or partial self-insurance, seeks to solve these issues.
Learn more about whether partial self-insurance is right
for your organization by downloading our checklist now: