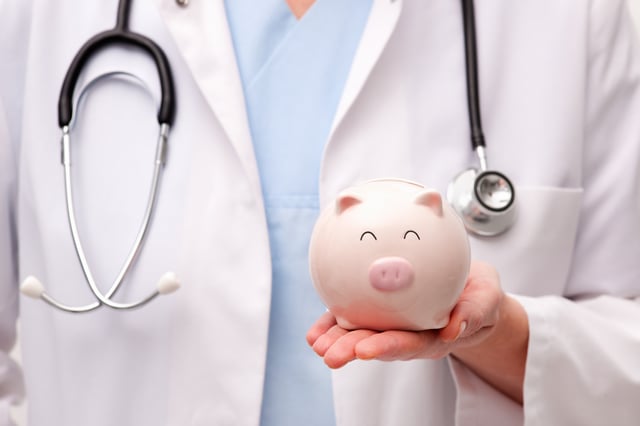 Photo: peachstatefcublog
Health Policy Brief: High-Deductible Health Plans, a new policy brief from Health Affairs and the Robert Wood Johnson Foundation highlights the growing popularity of high deductible health plans (HDHPs) and how they are impacting the healthcare market. The debate centers on whether HDHPs actually help reduce spending, especially the 30 percent that the Institute of Medicine calls "a waste," but at the same time don't prevent consumers from using insurance for necessary treatments.
According to the brief, "total health care costs now account for more than 17 percent of GDP." Due to this rise in healthcare spending, many – both employers and the individually insured – are turning to HDHPs to help curb healthcare spending. In fact, the brief notes that almost 25 percent of US workers are insured under a HDHP, a rise from 4 percent in 2006. Research shows that HDHPs can reduce spending across the board – but possibly at a cost to health outcomes.
Moving to HDHPs often results in the inevitable cost-sharing dilemma for most employers, with more and more out-of-pocket costs being shifted to employees. Research has demonstrated that when faced with increased contributions for a necessary medical intervention, consumers don't shop around for the best prices – more than likely they will just avoid getting treatment. The brief cites numerous studies demonstrating that HDHPs can actually reduce both unnecessary and necessary care, especially for those in low-income situations or with chronic conditions. But even those in higher socio-economic brackets will often put off care rather than pay exorbitant prices.
This has significant implications for nonprofits especially as these organizations frequently struggle to provide competitive salaries, and traditional healthcare plans are too-often placing more financial responsibility in employee's hands. As a result, nonprofit employee wages are eaten away by rising healthcare costs, even more so if there is a chronic condition that needs to be managed.
Luckily for those providing employer-sponsored healthcare, innovation in the healthcare market has opened up more opportunity for creative thinking about using the current system to a nonprofits' best advantage. When used wisely, HDHPs can actually be a tool to both reduce costs for employers and employees, while still encouraging consumers to seek out whatever medical treatment they need. One such solution is partial self-insurance, which combines a HDHP with an employer-funded reserve account to cover a portion or all of employee out-of-pocket expenses.
Learn more about partial self-insurance by downloading our white paper:
When it comes to employee healthcare, the status quo no longer holds water, and nonprofit managers must do due diligence to ensure they are providing the type of healthcare that reduces costs while still encouraging care. For more information on if partial self-insurance could be the answer for your organization, please contact us.