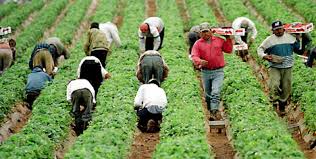 Photo: Planet Matters and More
The Associated Press recently wrote about a growing issue in health care - seasonal agriculture workers are required to have health insurance, but reaching them can be an uphill battle.
Read the full article at: www.modernhealthcare.com
Just like legal US citizens and residents, farmworkers who are here through the H-2A visa are required to have health insurance. They work very long days and sometimes full weeks, but only have 60 days to learn about the complicated healthcare system and acquire health insurance. Alexis Guild, a migrant health policy analyst at Farmworker Justice, an advocacy group based in Washington, said North Carolina has been "very successful" in enrolling H-2A farmworkers, thanks to a yearslong partnership among various nonprofits and health centers; however, efforts to reach farmworkers have not always been met with such success and many programs still struggle to reach these workers in other states.
Cost is also an issue. Many workers consider risking a fine for being uninsured to avoid paying for insurance altogether. But the fine isn't the only risk - agriculture ranks among the more dangerous industries, and accidents and emergencies can generate large medical bills.
There are many roadblocks, but the bottom line is that there is a tremendous need to provide quality and affordable health services to farmworkers. One way to ensure that farmworkers in your health center's community receive the best healthcare is to employ the best providers. Having an employee plan that offers premium-level benefits for less cost to the organization and to staff is a step in the right direction.
Download our whitepaper to learn more: